Hosting an event in Nashville? Choose a versatile venue on Broadway, the heart of Music City's entertainment district.
It's hard to think about Nashville without picturing honky-tonks: Neon signs, music pouring from open windows, the electric buzz of a steel guitar. And that's for good reason. Broadway, otherwise known as Honky-Tonk Row, has been the center of country music since the 1930's. For nearly a century, aspiring musicians have fled to Broadway for their chance at being discovered, entertaining millions of visitors along the way.
Today, dozens of honky-tonks, restaurants, and shops call Broadway home. You can find crowds bustling along the street's sidewalks year round, listening to live music and enjoying a drink or two. And in the middle of it all stands Broadway's tallest venue: Ole Red.
Created in partnership with country music mega-star Blake Shelton, Ole Red stands four stories tall and includes a restaurant, performance stage, retail space, and a rooftop bar. It's the perfect venue to infuse upscale Nashville culture into any event, large or small, buttoned-up or casual.
What Event Spaces Does Ole Red Offer?
Ole Red Full Venue — 750–1,500 guests
Ole Red Restaurant — 280–700 guests
Ole Red Mezzanine — 140–250 guests
Ole Red Third Floor Event Space — 160–250 guests
Ole Red Lookout Rooftop Bar — 240-300 guests
Full Venue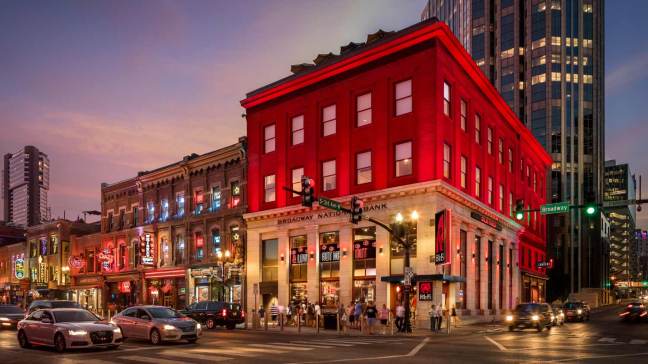 Host an unforgettable Nashville experience by renting the full Ole Red venue.The versatility of the 26,000-square-foot space allows you to entertain your guests to the max with a seated dinner, rooftop cocktail party, and private concert. You'll be in the heart of Nashville's entertainment row with a piece of Music City all to yourselves.
Ole Red Restaurant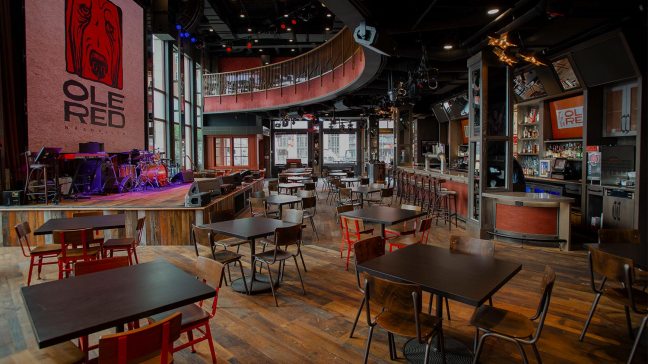 For a food-focused event, book the Ole Red Restaurant. The two-level space offers a fun mix of dining and entertainment, with a stage reminiscent of the Grand Ole Opry. Rent the main level and dance floor, the mezzanine, or both for a truly immersive experience. The restaurant is great for wedding receptions, private concerts, convention receptions, and more.
The Hall
The Hall is a versatile space that can be configured to meet the specific needs of your occasion. Located on the third floor of Ole Red with large windows overlooking the hustle and bustle of Broadway, the room gives you a comfortable spot to be right in the action. It's great for a wedding reception, corporate event, or private party.
The Lookout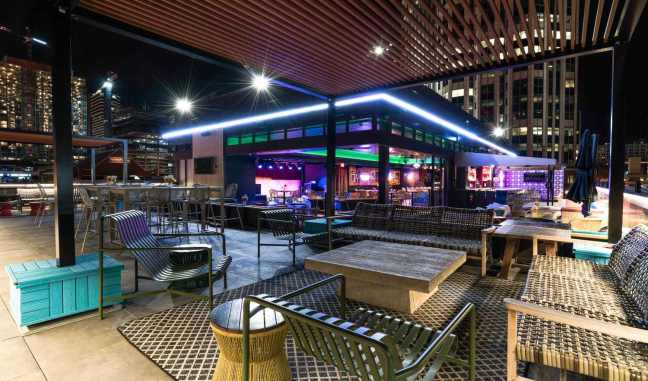 Escape to the Lookout rooftop bar for a one-of-a-kind event experience. The 6,000-square-foot space offers a full-service indoor and outdoor restaurant and bar overlooking Broadway. Perfect for wedding receptions, corporate parties, or fundraisers, the Lookout gives your guests an elevated experience with panoramic views of Nashville.
Have something specific in mind? Our team of experienced event planners can make your event dreams a reality. Let us help you host your meeting, corporate event, convention reception, group getaway, wedding reception, or client dinner at Ole Red Nashville.
Call us at (615) 871-5043 or email attractionsales@opry.com for more information.
Other Ole Red Locations
Did you know? Ole Red also has locations in Orlando, Gatlinburg, and Tishomingo.
Other Nashville Event Venues
Explore our other Nashville venues: Ryman Auditorium and the Grand Ole Opry.